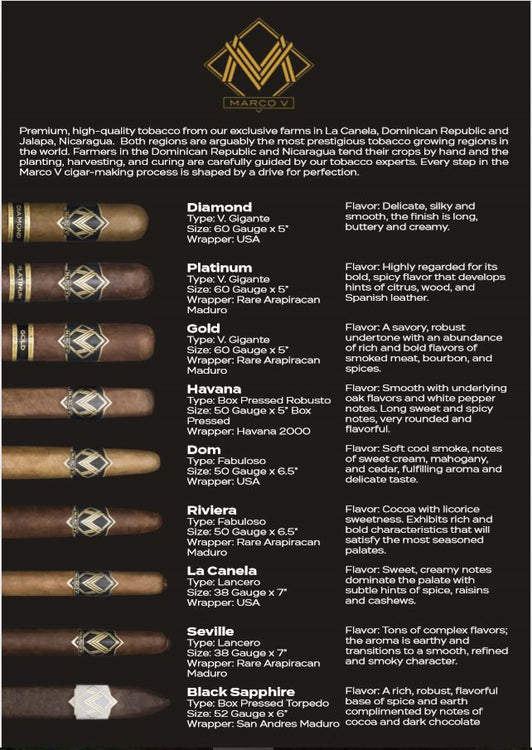 Marco V Cigars - July 2020 Update
July was another record month for Marco V Cigars.   More and more people each month are recognizing the quality and value intersection that the Marco V brand offers.  This is only possible because of your word of mouth.   Thank you!
Here is a look at our 3 distinct portfolios:
The Marco V Classico - Premium, high-quality tobacco from our exclusive farms in La Canela, Dominican Republic and Jalapa, Nicaragua.  Both regions are arguably the most prestigious tobacco growing regions in the world.
Available online and in stores
The Marco V Privato - The highest quality Marco V tobacco is classified as Privato. These limited cigars come from Jalapa, Nicaragua, which is home to the best tobacco in the world and has soil almost identical to Cuba. Privato cigars have to be transported via a four hour horseback journey since the farm is only accessible via a narrow dirt road. 
Available in stores only
The Marco V Mont Blanc - Made with premium-quality Nicaraguan tobaccos, these cigars are hand-rolled at the Fabrica Marco V. They smoke like a premium blend, but at a very reasonable price point. These flavorful, medium-bodied and dependable cigars deliver a thick smoke with sweet undertones. Available in four shapes, in both Connecticut and Maduro wrappers.
Available online only.
As a sign of our thanks, we are offering 11% for the full month of July.  MV4THOFJULY at checkout